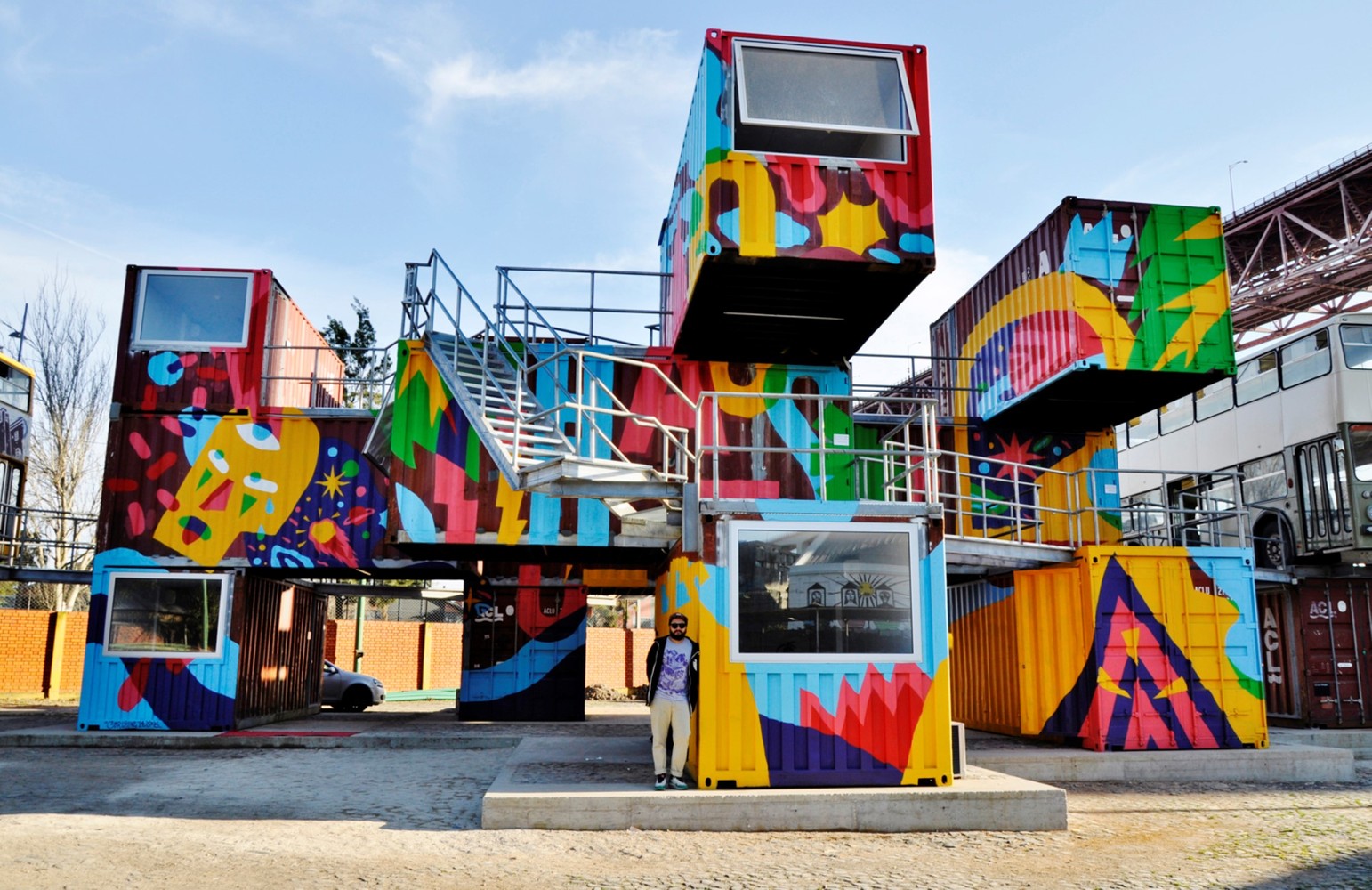 Recently Lisbon has become one of the capitals of street art. Portugal has a great number of very talented street artists, we picked 7 of them:
Vhils
Portuguese artist Alexandre Farto (b. 1987). Vhils grew up in Seixal, an industrialised suburb across the river from Lisbon. His work has been described as brutal and complex, yet imbued with a simplicity that speaks to the core of human emotions. An ongoing reflection on identity, on life in contemporary urban societies and their saturated environments, it explores themes such as the struggle between the aspirations of the individual and the demands of everyday life, or the erosion of cultural uniqueness in the face of the dominant model of globalised development. It speaks of effacement but also of resistance, of destruction yet also of beauty in this overwhelming setting, exploring the connections and contrasts, similarities and differences, between global and local realities.
Bordalo II
born in Lisbon, 1987. « I belong to a generation that is extremely consumerist, materialist and greedy. With the production of things at its highest, the production of "waste" and unused objects is also at its highest. "Waste" is quoted because of its abstract definition: "one man's trash is another man's treasure". I create, recreate, assemble and develop ideas with end-of-life material and try to relate it to sustainability, ecological and social awareness. »
Aka Corleone
Aka Corleone (1985): Pedro Campiche is a visual artist of Portuguese and Swiss descent who started out as a graffiti writer in the underworld of his native Lisbon. A compulsive drawer, obsessed with all things graphic and visual from an early age, he studied arts, earned a degree in Design and Visual Communication and worked as a graphic designer for a few years, having left the profession to focus on his artistic practice. He is known today for his dexterity in using colors, typography, characters, and refined forms which he blends to achieve eye-catching compositions imbued with originality and an all-pervasive humour.
Kruella d'Enfer
Portuguese visual artist and illustrator Kruella d'Enfer (1988) has a particular style, evoking a deep sense of wonder with the fantastical, benevolent creatures that inhabit its dark and mysterious corners, a world of mystical wolves or magical foxes, bewitching tigers or shamanistic deer. At ease painting both large-scale murals and intimist works on paper and canvas, her use of contrasting colors and geometric shapes brings age-old legends and myths to life, composing fantastic stories with a universal appeal.
Maria Imaginario
Visual artist from Lisbon, Maria personal work is «about emotions with a bitter-sweet twist, laced with humour and irony. I build my universe on installations, sculptures and paintings both in canvas and in walls. »
Daniel Eime
(1986) - CALDAS DA RAINHA
Learning his trade on the streets at the age of 16, Daniel Eime began with graffiti, followed by experiments in several methods of artistic expression including the use of stickers and posters, culminating in the current exploration of stenciling. This technique has been the core of his works since 2008, being present in all the paintings he produced since that time. Being recognized for his large scale murals and very detailed stencils, Daniel Eime's works depict intriguing characters that cast enigmatic gazes, frequently combined with abstract elements. His works aspires to capture the inner glow of his subjects, with every line on their faces telling the story of their and our own lives.
Mário Belém
Mário Belém (1977) worked as a digital illustrator and graphic designer for several years. Today he works with equal skill on both the small-scale pieces he creates in the studio and on the large-scale murals that have earned him a leading role in the burgeoning Portuguese urban art scene. Over the last few years he has been solidifying a distinctively personal language – colourful and playful – where he frequently juxtaposes images and words, composing visual narratives of a magical nature that are rooted in a balance between the familiar and the unusual and that explore various subjects inherent to communication, popular culture and the present human condition. Working mainly the medium of painting on wood in compositions of a sculptural nature.
comments powered by

Disqus